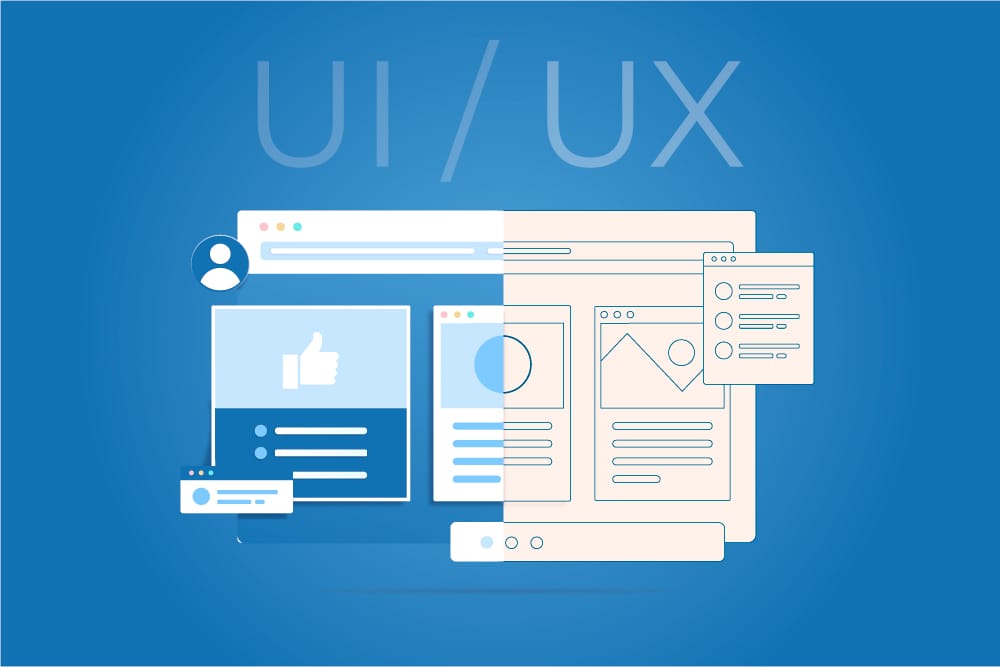 Why Are UI/UX Design Services So Vital for Business Websites?
UI/UX design services have become the mainstay for producing attractive and engaging websites. Gone are the days when conventional web design services would do the trick for businesses. The design and navigational simplicity of a website are as important as its content. 75% of a website's credibility is decided based on the richness of its design and eye-catching aesthetics.
The Basics
User Experience (UX) and User Interface (UI) go hand in hand. Of course, both of these are different from each other, having varied functions and factors.
UX is like web design's protégé which deals with a user's preferences pertaining to the ease of use of the website. The entire web journey of users, where they decide a website's significance, is done majorly based on its UX design.
UI is more about the interaction users have with a website. For instance, your website might have many features, but do these features come with an attractive design? Factors like fonts, color palette, theme, etc. form the UI of a website. The main aim of using a cutting-edge UI is to leave the visitors in awe of your website.
UI and UX – An Essential Unison
UI and UX services complete each other and a blend of both results in flawless website designs. On one hand, a good UX design ensures that vivid user expectations are consistently fulfilled. On the other, a crisp UI design aims at rejuvenating the design quotient of the websites.
What 'ease of use' is to UX, 'appealing layout' is to UI. Collectively, both of these have a huge impact on whether users choose to stay on the website and continue surfing. Evidently, encountering just a single bad experience makes 32% of users abandon a website permanently.
Contrastingly, a subtle website redesign allowed McAfee to cut down its customer support queries by 90% – isn't that amazing?
It's imperative to note that 57% of users would condemn a badly designed mobile website. If these don't ring any bell, let's dive deep into the reasons…
Why Should You Choose User Experience (UX) Designing Services?

A professional UX designing agency can also help you with custom development solutions and web design services. Ensuring an optimum user experience is not only a need but also full of benefits for online businesses. UX designing is like constructing a bungalow where the content can reside.
You'd need a wide range of living spaces to accommodate the content. You can begin by assessing your content requirements. Initially, understanding your users' objectives can give you a fair idea as to what features your website must offer. You might have to abstain from including some design sections to boost the speed of your website.
70% of e-businesses fail to do well because of their websites having inefficient usability. Also, nearly 90% of online users refrain from revisiting a website because of substandard user experiences. Here's why you need UX design services:
Keeping your leads and customers interested in your business:
A friendly UX design takes into consideration the user's needs and expectations. Does your website enable the users to easily find what they came looking for? It's a known fact that users should be able to navigate through the entire website without any hassle.
Convenience is the key, no matter which devices the users are using. Over 80% of the users wish for an impeccable experience on every device they use. Even the smallest of features like CTA sections, a search box, smart scrolling, etc. affect the overall user experience. A reliable UX designing company can help you convert leads and retain customers with the help of leading-edge UX designs.
Avoiding higher bounce rates and providing users with a reason to stay:
As soon as users land on your website, its UX design should be capable of mesmerizing them. First impressions are crucial and UX designing helps websites capitalize on the same. If visitors are enthralled by your web layout, be it for any device, they'll spend more time on your website. Safeguarding your website with a lower bounce rate can lead to beneficial outcomes. Google insights reported that over 50% of users wait for not more than 3 seconds for websites to load.
Recording greater online sales by fascinating your target audience:
When it comes to e-commerce websites, a robust UX design means lesser occurrences of cart items being banished. It plays a pivotal role in increasing your sales. A Proficient UX design promises humongous lead conversion rates of around 400%. According to Forbes, every penny spent after UX designing can yield a Return-on-Investment (ROI) of 9900%.
Achieving a higher rank on the Search Engine Result Page (SERP):
User experience has become a part and parcel of Google's gigantic ocean of algorithms. Google favours mobile-friendly websites for a better user experience. It has been prioritizing websites with high loading speeds for quite some time now. Some companies have a team of UI/UX designing and SEO experts to provide a package of services.
Why Should You Choose User Interface (UI) Designing Services?
While UX acts as a comfy abode for the content, UI emphasizes embellishing the living spaces to make them look more luxurious, lavish, and worthy of living. Users are like the guests who should feel welcomed when they visit your website. UI designing services assure them of such friendly treatment. It's all about including eye-pleasing design elements with a negligible need for the users to click.
Professionals providing UI designing services refine your website and help you in converting your visitors to customers. Better UI means you can achieve a conversion rate of up to 200%. These couple of statistics give you a decent gist about the importance of UI designing:
38% of users lose interest in a website if the layout and structure are poorly designed.
As per Adobe, over 66% of users prefer engaging with pretty websites rather than spending their time on complex ones.
Here's why you need UI designing services:
Developing brand recognition:
UI consists of colour choices, button designs, fonts, and other aesthetic elements. Striking consistency with apt colour tones and themes can make your brand stand out from the rest. People can recognize your brand when they see such thematic elements like a logo or a banner. UI designing services can help you get customized web designs that go well with your brand's values and products/services.
Converting leads and retaining the existing customer base:
UI has the power to convince while it also has negative traits. Successful conversions depend on how amazing or not-so-amazing your website's UI is. It can directly influence users either to leave the website or stay and interact.
Furthermore, apart from luring more customers to your website, an upbeat UI design gives your existing customers to hold on to you for future purchases. Users will repeatedly visit your website if its interface respects their need for convenience and ultimate goal.
UI and UX Design Services
UI/UX consulting companies can help you decorate your website and enhance your audience's experience. At P5Infosoft Pvt. Ltd., you'll find the best UI/UX designers leveraging superb UX design tools to provide a user-friendly, beautiful website.
Contact Us to Know More!