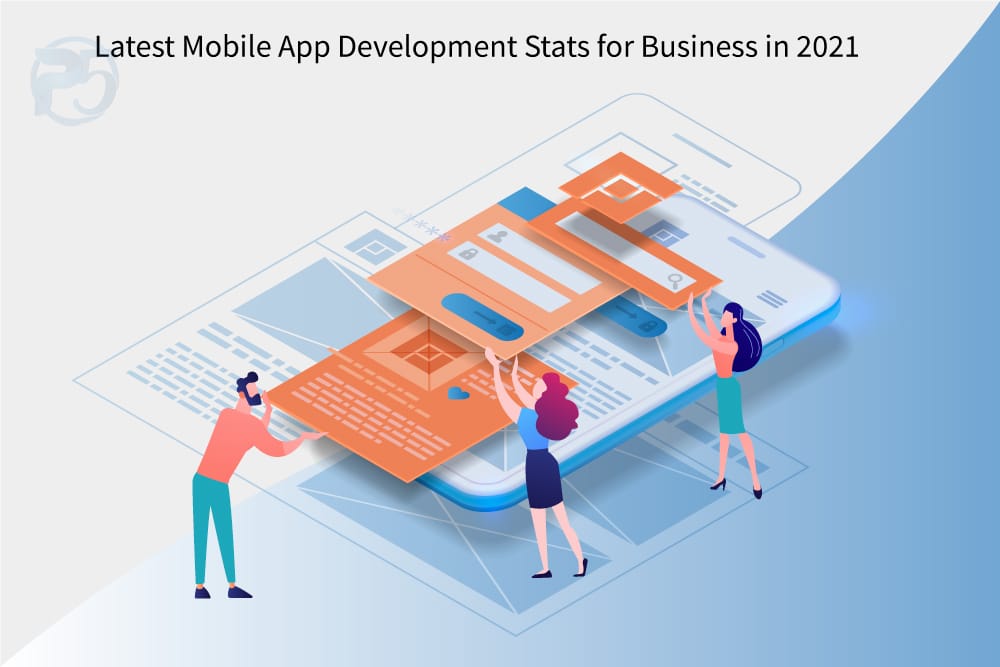 What makes business owners look for mobile app development services? Have you ever wondered why businesses tend to opt for mobile applications? You're looking at 5 major reasons:
Global Digitalization Across Industries
Increased User Reliance on Mobile Applications
Effective Branding
Customer Satisfaction
Profitable Outcomes
Presently, about 90% of businesses have their own mobile applications today. Organizations from all over the world are looking for trusted mobile app development companies. There are many reasons why companies opt for mobile app development services.
As per the latest mobile app development statistics, the worldwide revenue through mobile applications in 2020 touched $581.9 Billion! This figure is estimated to reach $808.7 Billion by 2022.

How can Mobile Applications Benefit your Business?
It's not just about the downloads. Mobile applications have much more to them than it appears:
Firstly, there are a lot of advantages involved.
Secondly, you'd need an expert mobile app development company to get started.
Thirdly, your business app can help you achieve most of your commercial goals.
Lastly, you'd only have to incur nominal costs to avail mobile app development services.
Let's throw some light on the various benefits of having a business mobile app:

A mobile application can provide the promotion every brand deserves. Having an app deems your business as a class apart among the market. Users keep seeing your brand logo on the app store and play store, increasing your business visibility. Moreover, once the users have downloaded your app, your brand awareness gets a boost too.
Mobile applications help user interact with the brand they're interested in. Your online presence is enhanced as your customers stay updated with your latest products, services, and offerings. GWI's recent study states that 78.6% of the world's users make a purchase online every month!
There's a steep increase in people buying via mobile devices as compared to desktops and laptops. A mobile app can help you achieve your promotional objectives and business purposes. This can be done using simple methods like providing:
Regular notifications to keep users engaged.
Easy access to product listings, availability, and prices.
Updates regarding latest offers, sales, discounts, and customer loyalty programs.
Personalized user profiles for better customer experience.
Custom range of products based on user preferences, previous purchases, locations, etc.
It's a fact – your business will get more attention through mobile applications. You can take your digital marketing strategies to the next level using your mobile application.

Constant Customer Engagement
Apart from marketing benefits, there's another added benefit of having a mobile application for your business. You can keep your customers indulged in your brand, luring them to make purchases on a consistent basis. The total number of mobile users in the world in 2021  will be over 7 billion! New mobile app usage records are expected to be created in 2021.
As per the latest stats, a 7% of yearly increase in the total mobile application downloads was recorded. The same report also found a 20% of yearly increase in the average daily time spent on mobiles!
These mobile app statistics hint towards an opportunity for businesses to cash-in. With such rising number of mobile app users every day, you can easily improve your lead generation and conversion trends. More the number of your app users – sooner will your business thrive. All you've got to do is to turn the situation in your favour and see your customer engagement increase.

Increased Sales, Profits, and Revenues
The worldwide user spending into mobile apps in 2020 crossed $111 billion – a straight 30% increase as compared to 2019. Speaking of 2019, the mobile app user statistics  will blow your mind! Globally, a 32% retention rate of users was recorded. With the increase in yearly user expenditures, the retention rates too are meant to rise. Mobile users are more willing than ever before, to spend on subscriptions, paid mobile apps, and other in-app purchases.
This has just one conclusion: Competitors are waiting, customers are up for grabs, and the Buyers are ready.
Are you?
Nowadays, businesses are focusing more on generating online sales. The target is to cover a broad nexus of customers using mobile applications. With such fierce competition in the market, you must act promptly and decisively. A minimal investment into mobile app development services can help your business flourish like never before!
Talking about sales and profits, business mobile applications play a vital role. Mobile app functions go a long way, for the users as well as for the business. For instance, there are many ways in which a mobile application increases your sales and profits:
It helps you with customer acquisition and retention.
It enhances your sales management operations and streamlines them.
It conducts direct product promotions and brand marketing.
It furnishes real-time data including customer preferences, app usage patterns, etc.
Favourable Trends across All Industrial Domains
Mobile app development stats are everywhere! Businesses across all domains and sectors have experienced the benefit of having mobile applications. We've brought to you a series of data patterns which reveal industry-wise usage of mobile applications:
Customers of the banking and finance industry contributed to a record 4.6 billion downloads of relevant mobile applications.
The food industry applications have flourished since last couple of years, with over 128 billion user sessions recorded in 2020.
Medical mobile apps attained 50% yearly growth in downloads since the inception of the pandemic. The need for COVID-19 mobile apps has led to more than 3.2 billion downloads across the health and fitness domain.
The retail industry too isn't falling back! In 2020, users spent a total of 82 billion hours on online shopping apps. That's not it – this statistic is a result of a 30% of yearly increase from 2019!
Enhanced Customer Support Management
Every customer expects good support services from any business. The conventional ways of attending your customer queries are long gone. These days, 78% of people use mobile apps to put-up service requests and enquiries.
You can improvise your customer support management operations too. A dedicated mobile application can help you solve customer complaints online, making the procedure easy for your customers. It'll further help you cut costs on unnecessary hiring's and other expenses.
Why do you need Mobile App Development Services?
Getting an app developed requires expertise and efficient mobile app development services. Having a business mobile application comes with many responsibilities. It's important for you to fulfil user expectations at all stages of brand interactions.
Keeping your customers happy is the ultimate thing you'd want to ensure for the best results. As per the latest mobile app performance metrics, a poor app can adversely affect a brand's reputation. A loading time of over 3 seconds makes 43% of the users unhappy. Moreover, 71% of app crashes result in the uninstallation of mobile apps.
A professional mobile app development company can build a user-friendly application for you using various SDKs like Flutter or React Native. Opting for mobile application development services has its own reasons.
First of all, it'd be apt for you to make sure that your customers are satisfied by your app's user interface.
Secondly, you're required to be aware of the causes behind failed mobile applications. 58% of users dislike a brand due to a dull interface while 52% of users are affected by an app's overall performance.
Whether you choose iOS, Android, or cross platform mobile app development services, proficiency is the key! An experienced mobile app development company can cater to your core purpose of having an app in the first place.

What Does the Future Hold?
The mobile app development market is growing rapidly. A dedicated app can shift your business beyond its mainstream goals and towards prosperity. Take a moment to refer AppAnnie's Insights for future speculations:
By 2024, the online shopping industry and social media commerce is all set to become a $2 trillion market!
The advertisement industry is nearing the worth of $290 billion in 2021 in mobile advertisement spending!
In 2021, the Business & Education apps are undergoing a 4-year Compound Annual Growth Rate (CAGR) of 57% & 62%.
The future prospects are at an all time high! Strike the iron when it's hot – contact us for the best mobile app development services. We'll make sure that you become a benefitting stakeholder of such amazing mobile app development statistics. As an app development company, we at P5Infosoft are inclined towards serving our clients in the most result-oriented ways.